Since 2000, the Soundboard team has partnered with leaders and managers of over 250 companies
and organizations across a broad range of industries. We have helped our clients maximize productivity
and profitability through more effective leadership and management.
Core Tenets of Our Support
An organization cannot outperform the limitations of its leadership.
Small shifts in behavior over an extended period of time lead to less resistance and bigger results.
High performance is directly correlated with the ability to actively listen, navigate through
difficult conversations and manage emotions.
Effective management requires a broad toolkit of skills and flexibility plus a great deal of finesse.
While Soundboard's coaching, facilitation and training services are available individually, it is through our comprehensive productivity improvement process that clients are able to achieve tangible results in productivity and profitability.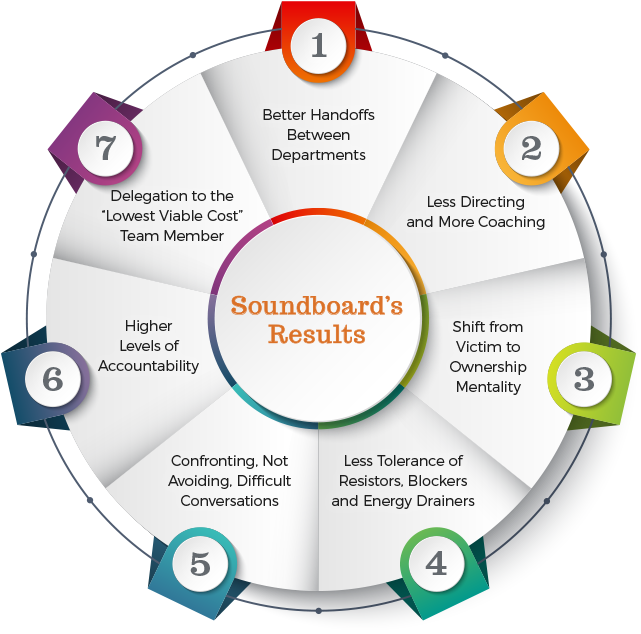 Proof That Small Shifts Do Lead to Big Results
See how leaders just like you maximize performance through the Soundboard process.
Generational Transition
page2-antnan
2018-06-04T17:16:23+00:00
"Soundboard was instrumental in moving us from a place of stagnation to growth. Our managers have shifted to be more effective leaders who build capacity in their teams and the company as a whole. The result has been an improved culture, greater clarity and purpose and improvement in the financial bottom line of the company!"
"As a small business owner, the insights and support that I have received through working with Soundboard over the years have had a significant positive impact on my business and also on me personally. I view the Soundboard team as both friends and trusted advisors and it is always nice to know that I can rely on their collective knowledge, passion, and…"